Ladakh Tour - offers tours to Ladakh, LadakhTour Package, Ladakh Cultural Tour, Cycling in Leh & Ladakh.
Ladakh is bounded by world's two mightiest mountain ranges the great Himalayan and the Karakoram, It lies athwart two others The Ladakh and the Zangskar range.
It leaves the first time traveler awestruck by its geographical and cultural difference as they land at Leh. The features of Ladakhi people, their clothes and dialects are similar to Tibetan and Mongoloid then Indian.

Art & Craft
There is little tradition of artistic craftsmanship in Ladakh, most luxury articles inthe past having been obtained through imports. The exception isthe village of Chiling, about 19km up the Zanskar river from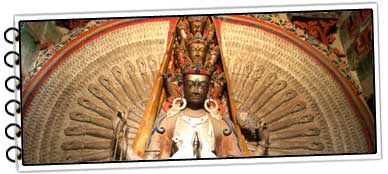 Nima. Here, a community ofmetal workers, said to be the descendants of artisans brought from Nepal inthe mid -17th century to build one of the gigantic Buddha -images at Shey, cary on their hereditary vocation. Working in silver, brass and copper, they produce exquisite items for domestic and religious use : tea and chang pots, teacup - stands and lids, hookkah-bases, ladles and bowls and, occasionally, silver chorten for installa-tion in temples and domestic shrines. Those who cannot afford the expensive ware of the Chiling craftsmen, are supplied by local blacksmitsh (gara), witht the bowls and cooking pots they need for everyday use, as well as with agricultural implements. The gara also make the large and ornate iron stoves seen in kitchens of the richer Ladakhi homes. In general, craftsmanship has not developed beyond and production of everyday item for personal and domestic use. Pattu, the rough, warm, woolen material used for clothing is made from locally produced wool, spun by women on drop-spindles, and woven by semi-professional weavers on portable looms set up in the winter sunshine, or under the shade of a tree in summer. Baskets, for the transport of any kind of burden - manure for the fields, fresh vegetables, even babies -are woven out of willow twigs, or a particular variety of grass. Wood work is confined largely to the production of pillars and carved lintels for the houses, and the low carved tables that are a feature of every Ladakhi living-room. Many such items, together with others recently introduced as part of the development process, are available in the District Handicrafts Centre at Leh, which exists to train local people as well as to market their products. There you can find, in addition to traditional objects, a few special items like pashmina shawls- rough compared withthose produced in Srinagar, but soft and warm as only pure pashmina can be ; and carpets in designs and techniques borrowed from Tibet. Similar carpets are also to be had at the Tibetan Refugee Centre at Choglamsar. The Handicrafts Centre also has a department of Thangka painting. These icons on cloth are executed in accordance with strict guidelines handed down from past generations. In the same tradition are the mural paintings in the gompas, where semi-professional, both monks and laymen, labour tokeep the walls decorated with images symbolizing the various aspects of the Buddhist Way. The skill of building religious statues is also not extinct. The gigantic representation of Maitreya, was installed in Thikse Gompa as recently as the early 1980s.