Ladakh Tour - offers tours to Ladakh, LadakhTour Package, Ladakh Cultural Tour, Cycling in Leh & Ladakh.
Ladakh is bounded by world's two mightiest mountain ranges the great Himalayan and the Karakoram, It lies athwart two others The Ladakh and the Zangskar range.
It leaves the first time traveler awestruck by its geographical and cultural difference as they land at Leh. The features of Ladakhi people, their clothes and dialects are similar to Tibetan and Mongoloid then Indian.

Ladakh & Kashmir Tour
Duration : 15 Days / 14 Nights
Palace to See : Delhi - Chandigarh - Jammu - Srinagar - Sonamarg - Kargil - Mulbek - Alchi - Leh - Nubra Valley - Delhi
Day 01: Delhi
Arrival in Delhi. Transfer to your hotel.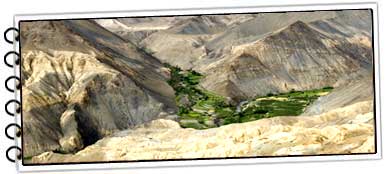 Day 02: Delhi - Chandigarh
After a late breakfast drive to Chandigarh. Stay at Hotel Picadilly or similar.
Day 03: Chandigarh-Jammu
Sightseeing of Le Corbusier's planned city of gardens. Drive to Jammu. Evening, visit the bustling bazaars. Overnight at KC's Residency or similar.
Day 04: Jammu - Srinagar
Drive to Srinagar, the capital of Jammu and Kashmir. Transfer Houseboat.
Day 05 & 06: Srinagar
Live on the houseboat in the Dal lake with sightseeing excursions to the Moghul gardens, Hazratbal mosque exploring the backwaters of the Dal visiting old settlements in and around this beautiful lake.
Day 07: Srinagar - Sonamarg - Kargil
Drive from Srinagar to Kargil via Sonamarg and Dras. Overnight in a lodge.
Day 08: Kargil - Mulbek - Alchi
Drive along the highway to Mulbek to view the 7th century rock carving of Maitreya Buddha. Continue on to Lamayuru monastery, the first monastic foundation in Ladakh. Drive across the Indus river to make a westward 20 Km detour to visit Bema village in a recently opened area where the Drokpa tribe of the Indo-Aryan racial stock live. Their features, language, religious practices differ from that of the rest of Ladakh. Drive to Alchi for overnight in a lodge.
Day 09: Alchi - Leh
Visit the 11th century Alchi monastery famous for its religious wall frescoes. On the way to Leh visit Likir and Phyang monasteries. Overnight at Hotel Caravan Centre.
Day 10: Leh
Today, visit the Shey palace, Thiksey monastery, the well known Hemis monastery, the Stok palace (museum of family heirloom and present residence of Ladakh's royalty. Return to Leh via Choglamsar village.
Day 11: Leh - Nubra valley
Early morning leave for Nubra valley crossing Khardong-la pass (5605m), the highest motorable pass in the world. Enjoy panoramic views of the Indus valley and Zanskar mountains from the pass. Visit Sumur village and the picturesque Samstaling monastery. Overnight in a camp near Tegar village.
Day 12: Nubra valley - Leh
After breakfast drive to Deskit, the main village of Nubra valley. Visit the monastery that is located high up on the mountain face. Optionally, you may take a camel safari on the back of the double-humped Bactrian camels to Hundar (at extra cost and subject to prior booking only). Drive back to Leh. Overnight in your hotel.
Day 13: Leh
Fullday free for exploring Leh town where you can also visit a traditional Ladakhi home sharing tea in their decorated kitchen. Lunch in one of the garden cafes in town. Farewell dinner in the evening. Overnight at hotel.
Day 14: Leh - Delhi
Transfer to Leh airport for early morning flight to Delhi. Upon arrival transfer to Ashok Country Resort. Rest of day free.
Day 15: Delhi Departure
Transfer to the airport to connect outbound flight.