Ladakh Tour - offers tours to Ladakh, LadakhTour Package, Ladakh Cultural Tour, Cycling in Leh & Ladakh.
Ladakh is bounded by world's two mightiest mountain ranges the great Himalayan and the Karakoram, It lies athwart two others The Ladakh and the Zangskar range.
It leaves the first time traveler awestruck by its geographical and cultural difference as they land at Leh. The features of Ladakhi people, their clothes and dialects are similar to Tibetan and Mongoloid then Indian.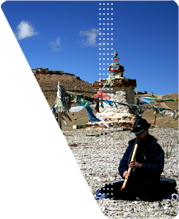 About Us
Ladakh Tour is one of the subsidiaries of Adventure & Expedition Travels Pvt. Ltd.. AE Travels is newly emerged tour operator situated at the heart of India, commonly known as a land rich in its cultural heritage and famous for enervating beauty, challenging adventure,most diverse and colorful wildlife. This company is runed and managed by a group of professional from different aspects of tourism having same thought of "Conservation through Toursim." The mission of AE Travels is to provide best travel service for those group of adventerous travels interested in beauty of nature and try to find their home in Nature. At the same time AE Travel is conscious and works for protecting the Nature and its Resources providing chances for local people to earn their lively hood through toursim.

Our tour plan are based on the knowledge and experience of our team member and the best part of our tour plan is that one can have the chances to interact with local people. Our team excel in different adventerous activities such as wildlife tours, Jungle Safaries, Angling, Birdwatching, Jeep Safari, Motorbike Safari, Cycling trip, Trekking, mountain climbing, desert safaris and many more. From Himalayas in Ladakh to the snow capped peaks in Sikkim, from the desert villages of Rajasthan to the ancient temples of the south, from rafting on the Himalayan rivers to walking through the lush green valleys of Arunachal Pradesh - AE Travels tries to provide you fun-filled holidays, memories of which you will treasure a lifetime. So come on over to India We shall pamper you!!!!!!!!!!